so I'm gonna need Derek to imprint on Stiles like a baby duckling ok

"Your jeep is so cool Stiles"

"haha youre so witty and sarcastic Stiles"

"wow you have the access codes to the sheriff's station that is so badass Stiles"

"Stiles says you're my uncle Peter even though you look different but you're an evil psycho and I shouldn't trust you so stop touching me"

"I go everywhere with Stiles because he says I can't remember who tried to kill old-me so it's safer to stay near him"

"Stiles isn't a very good cook but he bought a ton of those hotpockets I like because he says my life has enough bad things in it already and eating healthy food that tastes like old socks shouldn't be one of them"

"Stiles let me borrow his clothes because the ones old-me wears don't fit so well and his smell like sunshine and kind of like a gym bag but I like them isn't he so generous"

"why are you checking my head for lumps I can say nice things about my friend Stiles if I want to"
(via agentotter)
a customer asked me if the 'chai-poddle' wrap was spicy at work today and i sincerely had no clue what the fuck she was talking about

chipotle, chipotle, chipotle
(Source: scottydelgados)
Male Writer:

Ah, anniversary jokes are so funny. Because chicks always hate it when you don't remember anniversaries! A plus gold very original

Male Writer:

Mother in laws amirite?

Male Writer:

My male character who is an author insert of myself pines after a woman I used to pine after in high school. Then they have sex. This is good literature.

Male Writer:

Ugh female books are so romance filled

Male Writer:

And girl fanfics, so mary suey

Male Writer:

Now listen about this original middle aged man who is an expert in everything, suffers from ennui, looks like me, acts like me, and gets all the girls i want.

Male Writer:

She was sexy in an alluring, boring way, filled with purple prose and riddled with objectification

Male Writer:

If i make a female character parrot my misogynistic views, they cease to be misogynistic! Are you saying you don't respect my fake female characters opinions, feminists?

Male Writer:

a good action girl is one who looks hot at all times

Male Writer:

If the female main character got in an asskicking line, my work is Feminist with a capital F and no one can criticize me

Specifically White Male Writer:

Heroic tropes are so overdone. I'm going to create a boring white guy with stubble to be a completely original antihero no one has ever seen before TM.

Same Guy:

It's original because he is a jerk who gets away with bad behavior, just like I wish i could.

Another Specifically White Male Writer:

It's in my universe to only have white men do things in my book. I mean, don't you care about historical accuracy

Same Guy:

I mean, it's a generic fantasy verse with no real life time period equivalent and i haven't done any research, but i'm SURE that it's historically accurate. To that dark mideval dragon fighting europe period

Same Guy:

Where in Europe? Who cares!

Male Writer:

There is no better way to introduce a female character to a male character than by him saving her.

Male Writer:

Characters hating each other is good sexual tension!

Male Writer:

One female character and five male characters is a good team balance

Male Writer:

If my female character chooses to act in a sexist tropey way, it's not sexist. In fact, because she CHOSE to do it, it is Feminist.

Male Writer:

I am original
"My death will probably be caused by me being sarcastic at the wrong time."
—
Anonymous (via sorelatable)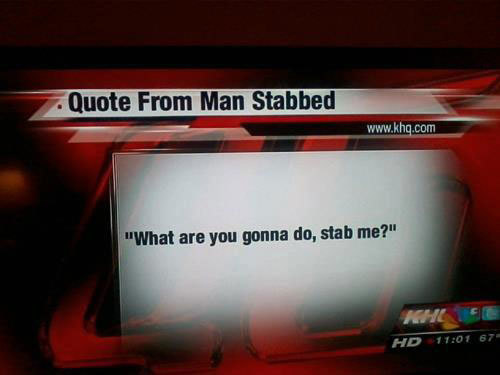 (Source: chattiest, via drunktuesdaze)